By Rory O'Callaghan
Last Updated: 13/02/16 7:26pm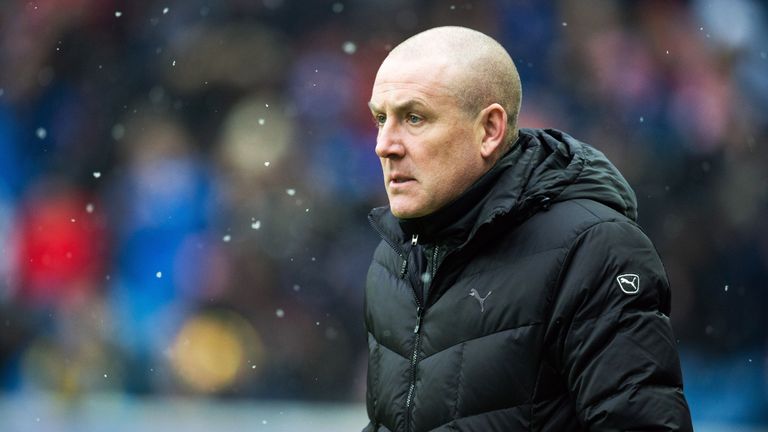 Rangers manager Mark Warburton refused to blame the result on Alloa's artificial pitch
Rangers manager Mark Warburton refused to blame Saturday's disappointing 1-1 draw with Alloa on the controversial playing conditions at the Indrodrill Stadium.
The league leaders failed to make the most of a number of chances in the first half and went a goal behind when Jason Marr headed the Championship's bottom club ahead against the run of play.
Michael O'Halloran rescued a point for the Ibrox club ten minutes from time with his first goal for the club but Warburton admitted after the match that he was disappointed with his team's performance.
"It was a very frustrating day for us," said Warburton.
"I think you watched the same game that I did, but there are no excuses because goals change games. It's as simple as that and the game should've been out of sight at half time.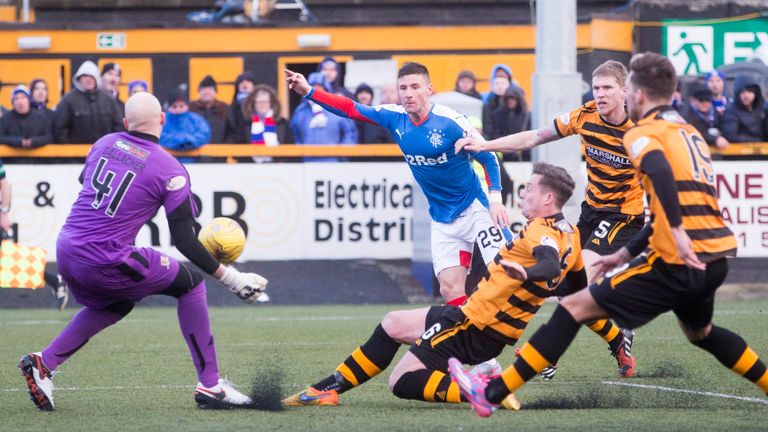 Rangers striker Michael O'Halloran scored his first goal for the club on Saturday
"The longer the game goes on they grow in confidence and we spoke about it at half time – it only takes one set piece or one chance. That was what they were looking for and you saw what happened.
"We had a good reaction to going behind, but we have got to be more clinical, it's as simple as that. It could have been anything if we take our chances."
Alloa had been allowed to narrow their artificial playing surface to the minimum 60 metres allowed, despite being halfway through the season.
However, Warburton refused to use the surface as an excuse for his side's below-par performance.
"It is difficult on the surface because the players had that uncertainty where they would take two touches instead of one, but that's no excuse because we still had some good movement and interplay and it should've been out of sight at half-time," he said.
"We can't use the pitch as an excuse, we train on the surface and we have been here before.
Chairman Mike Mulraney says the decision to narrow Alloa's pitch for their match against Rangers is within the rules and in the best interests for Alloa.
"The pitch is irrelevant because it is the same for both sets of players. Without being disrespectful to Alloa we should have been five or six up at half-time.
"I haven't seen that stats but they don't matter when you concede a goal. I am frustrated because with all our good work we didn't get the end result."
Alloa's manager Jack Ross denied that the club had changed the pitches dimensions specially for the visit of Rangers.
"Whether the pitch has an impact on the outcome of the game is for other people to judge, but it is obviously a factor in the way the game pans out," he said.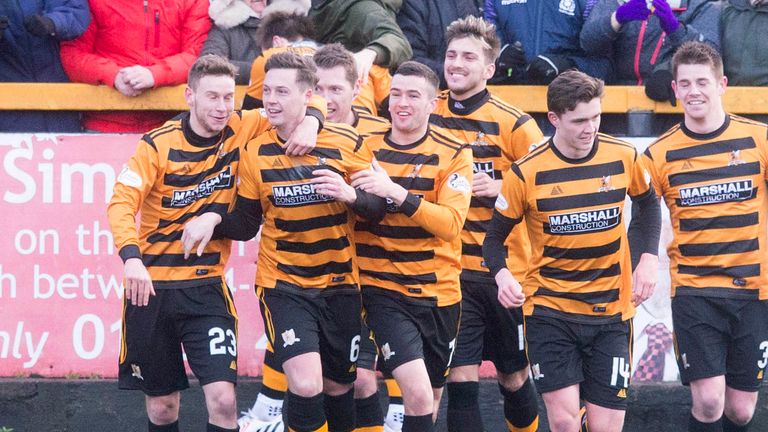 Alloa's Jason Marr celebrates opening the scoring against Rangers
"I must stress though that this was something that we did weeks ago and it wasn't simply done for this game. It is something that could help us out defensively over the course of the rest of the season and I think it has done already.
"Still, that elusive home win escapes us, but I have got to be delighted with a point against the league leaders because they are a top side.
"I would much prefer to talk of the performance of my players have done today more than anything else. I was delighted with a number of factors such as the goalkeeper's performance and you really need him to go and have a big game against Rangers.
"Our organisation and understanding of what we are trying to do was good, and to a man they were excellent."